V BELT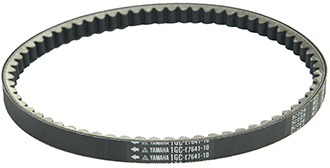 The function of V- Belt is the transmission of power and is used in a CVT. YAMAHA Genuine V-belts are designed for maximum strength and durability, to meet the specific requirements of the vehicle they are to be used on. The rubber from which any V-Belt is made is very sensitive to temperature and a difference of only a few degrees may require a belt specification to be substantially changed.
Why use YAMAHA Genuine V-belt
YAMAHA Genuine V- Belt is manufactured from high quality material mesh to bear continuous tensile and shear stress, providing long replacement periods. The non-genuine V-belt may get elongated or break due to continuous tensile and shear stress resulting in further engine problems. Therefore use of YAMAHA Genuine V - Belt is recommended for optimum performance of your YAMAHA vehicle.
Description
WHEN TO REPLACE
At the intervals specified in owner's manual Or as advised by YAMAHA service engineer.
WHERE TO REPLACE
At your nearest Yamaha authorized Dealership or Service network.