19 Oct, 2008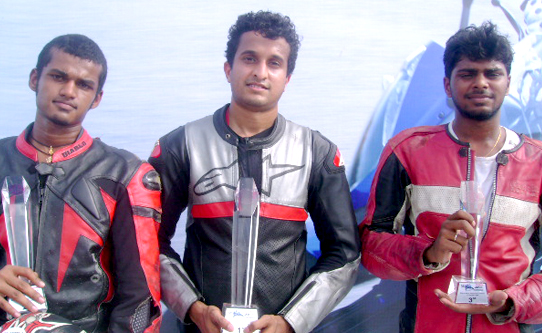 RESULT
Champion : MR. SAMEER VENUGOPAL
2nd : MR. VIVEK PILLAI
3rd : MR. RAJ KUMAR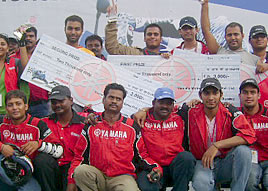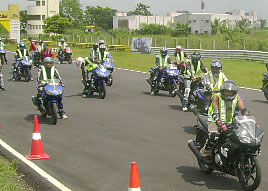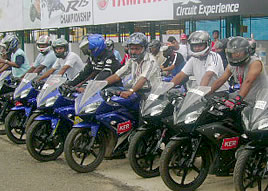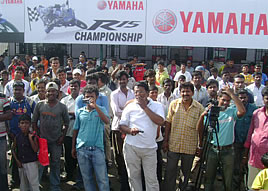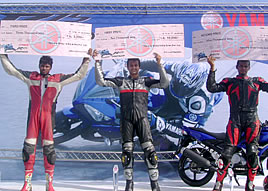 REPORT / ANNOUNCE
As a part of its efforts to promote Motor Sports culture , India Yamaha Motor kick-started a two-day event in Chennai comprising lecture on Safe Riding by leading automobile expert on 18th October ,followed by the second edition of Yamaha YZF- R15 Championship on 19th October.
Irungattukottai Racing Track 30 kilometers away from Chennai, Played host once again to the 120 -R15 customers who participated in the event . There was a huge audience to attend this event for cheering up the Racers.
The two days event culminated with Yamaha YZF-R15 Championship, a racing event, featuring YZF-R15, for its esteemed customers, on 19th October. The championship witnessed participants from Hyderabad, Bengaluru and Coimbatore competing with six riders from Yamaha YZF-R15 Championship held here last month.
Mr. Aspi Bhathena, an ex-racer and the only Indian to have raced at the The Isle of Man TT Races & Mr. Sanjay Tripathi ( Division Head- Product Planning & Marketing ) briefed the enthusiastic racers on safe riding techniques especially when the machine is YZF-R15 which spells Super Sports. After a talk session, he took the road riders ready to accept the challenge of the racetrack for practical sessions and gave out handy tips to be followed while riding on a race track.
The winners takes home the prize money of 10,000(INR) the winner of the championship, 1st runner up gets 5,000(INR) while 2nd runner up receives 3,000(INR).
This is the second time the Sameer Venugopal from Bengaluru won the R15 Championship title.
The First Runner up was VIVEK PILLAI and the 2nd Runner up was RAJ KUMAR.
CIRCUIT DATA
Madras Motor Spors Club with its history of over 50 years is the reason that Chennai can be called the epicentre of motor racing in India.
For a racing enthusiast, there is nothing to beat the smell of burnt rubber and the sound of screaming engines...and what better place than the Irungattukottai Race Track to catch the racing excitement The Irungattukottai race track, which is the first of its kind in India was inaugurated in 1990.
Length Full track: 3.74 kms (12 curves/turns)
Short (Club) track: 2.1 kms (7 curves/turns)
Width: 11 metres, 12 metres at start line
Direction: Clockwise
First race: 1990
Fully resurfaced: 2007