15 Mar, 2019

Striking balance of 'Torque and Agility' on an advanced design 155 cc motorcycle
New Delhi, March 15, 2019: India Yamaha Motor (IYM) Pvt Ltd. unleashed the all new MT-15 (155 cc) in India today during a launch program at Buddh International Circuit (BIC), Greater Noida. The new MT-15 (155 cc) mounts a liquid-cooled, 4-stroke, SOHC, 4-valve, 6-speed transmission, 155cc fuel-injected engine along with Variable Valve Actuation (VVA) system on a Delta box frame. The new MT-15 triggers agile and strong-feeling acceleration and flaunts standout traits of the styling with enhanced control postures along with A&S clutch and single-channel ABS.
Yamaha as a part of its ongoing THE CALL OF THE BLUE campaign has introduced the essence of its MT Series with the launch of the new MT-15 that is powered with an engine that offers 58.0 X 58.7 mm bore X stroke and a 11.6:1 compression ratio producing a maximum output of 14.2 kW (19.3 PS) at 10,000 rpm and maximum torque of 14.7 N.m (1.5 kgf.m) at 8,500 rpm. The new MT-15 strikes the ideal balance of agile acceleration, agile handling and advanced design and is targeted for young generation who are transitioning from lower end two wheelers and are simultaneously looking for snappy rides with maximum feel of torque and acceleration.
The new MT-15 will turn to the advantage of adventure lovers with its VVA engine for agile acceleration along with model-specific ECU, optimized secondary reduction gear ratio for snappy riding in town, A&S clutch for stress-free gear shifts, rider-centered craftsmanship with a great deal of freedom on a tight, concentrated silhouette, 140 mm width rear tire and 282 mm front disc brake with single-channel ABS for excellent stopping power. The advanced design expressing 'Torque and Agility' is further accentuated by minimal-look headlight enhancing dynamic front face styling, short tail with a vertical taillight and overall 'graphics and finish' that illustrates the unpredictable MT style.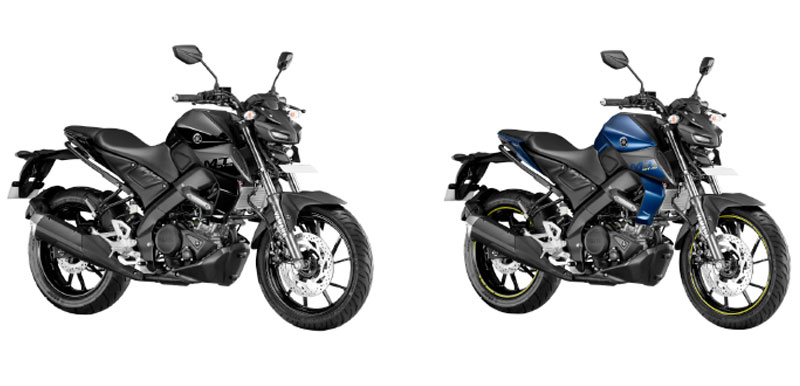 Mr. Motofumi Shitara, Chairman, Yamaha Motor India group of companies commented during the launch of the new MT-15, "Today's customers look for variety and diverse range of products. We at Yamaha will always try to introduce new biking experiences to our customers & excite them with products & services that exceed customer expectations. Yamaha will offer 3 motorcycle series in India under "The Call of the Blue" campaign, the 'R series', 'FZ series' and the new 'MT series'. With the new trends of motorcycling in India wherein the riders want diverse experiences with speed and controls, the entry of MT-15 is inevitable. The launch of the new MT-15 will further multiply the brand's excitement as it would entice customers in exciting, stylish and sporty motorcycling with its unique torque and agility along with design excellence and engineering."
Model
Launch Date
Price
Colours
MT-15
March 15, 2019
Rs. 1,36,000/-
(Ex-showroom Delhi)
1. Mettalic Black
2. Dark Matt Blue
The evolution of the MT DNA in international market has contributed to the proud and defiant look of the new MT-15 along with the technological pursuit of the machine's essence that is backed by minimum ground clearance of 155 mm, weight (with oil and a full fuel tank) of 138 kg, VVA system providing sharp top-end power, a bypass type thermostat for the cooling system to reduce engine warm up time and a muffler with 3-stage expansion chamber for a clear sound at high rpm. While fine-tuning the rigidity of the pivot point of the chassis that directly receives the drive force generated by the rear wheel has been made, an ideal balance of vertical, horizontal and torsional rigidity is also achieved while a box-section steel swing arm is provided for an optimal balance of strength. All of such features present the uniqueness of quick-feeling handling, eventually facilitating the new MT-15 respond exactly as the rider intends.