05 Mar, 2008

Yamaha Motor Co., Ltd. (Headquarters: Shingai, Iwata, Shizuoka Pref.; President: Takashi Kajikawa) (hereafter YMC) and Mitsui & Co., Ltd. (Headquarters: Otemachi, Chiyoda-ku, Tokyo; President: Shoei Utsuda) (hereafter Mitsui) today announced the agreement
Yamaha Motor Co., Ltd. (Headquarters: Shingai, Iwata, Shizuoka Pref.; President: Takashi Kajikawa) (hereafter YMC) and Mitsui & Co., Ltd. (Headquarters: Otemachi, Chiyoda-ku, Tokyo; President: Shoei Utsuda) (hereafter Mitsui) today announced the agreement that Mitsui will become a joint investor in the new motorcycle manufacturing company India Yamaha Motor Private Limited (IYM) established by YMC in October 17, 2007.
Mitsui's investment will take the form of an allocation of new stock shares to a third party issued by IYM for the equivalent of 30% of the company's capitalization. In this way, IYM will increase its total capital to a planned 5.6 billion rupee (approx. 16 billion yen) and utilize the same factory and office facilities used by its predecessor, Yamaha Motor India Private Limited (YMI), to take over YMI's manufacturing and business operations beginning from April, 2008. Based on this, YMI will promptly begin the closing of its books and corporate liquidation. It will be business as usual for the employees and business partners of YMI.
Through the "Yamaha-Mitsui Strategy Committee" that was established following Mitsui's acquisition of 3% of YMC stock (announced May 2007), YMC and Mitsui have reviewed the possibilities for Mitsui's participation in various areas of YMC's business activities with the aim of strengthening its overseas business and cooperative ventures in other areas of business. The decision announced today is a result of these reviews and repeated discussions with a focus on a "comprehensive joint business venture in India."
YMC started manufacturing of motorcycles in India by establishing a joint venture company with local partner Escorts in 1996. In 2001, YMI became a 100% owned subsidiary of YMC. Then in 2005, a separate sales company, India Yamaha Motors Private Limited, was established, after which the Yamaha motorcycle business in India was conducted by two companies specializing in manufacturing and marketing respectively.
With the stable growth of the Indian economy as a whole, the Indian motorcycle market has grown to 7.3 million units in 2007, making it the world's second largest market in terms of demand. The aims for the future are for YMC to aggressively introduce new high value-added models and promote a sales network strategy that includes expanding the establishments of directly-run showroom/dealerships and for Mitsui to use its strengths in logistics and dealer network development to achieve a synergistic effect that will stimulate a growth in sales of Yamaha motorcycles from 120,000 units (domestic only exclusive of exports: 60,000 units) annually in 2007 to 650,000 units (domestic only exclusive of exports: 90,000 units) annually in 2010 while improving the brand's presence in the fiercely competitive Indian market.
Yamaha's Motorcycle operations in India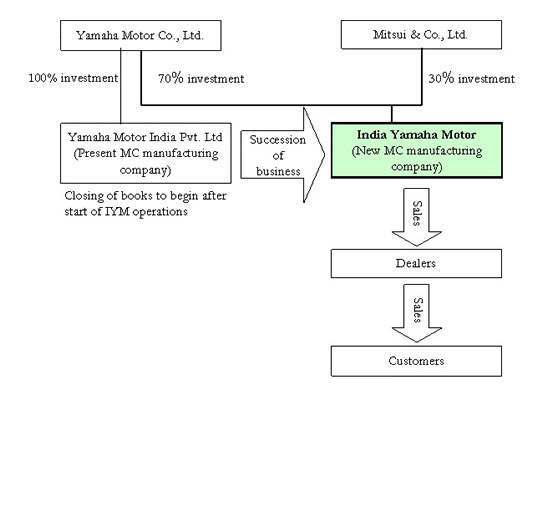 India Yamaha Motor Pvt. Ltd. (IYM)
| | |
| --- | --- |
| Head Office: | A-3 Surajpur Industrial Area, Noida-Dadri Road, Surajpur - 201306, Distt. Gautam Budh Nagar, U.P., India |
| Foundation: | Oct. 17, 2007 |
| Start of operation: | April 1, 2008 |
| Headed by: | Mr. Tsutomu Mabuchi, Managing Director and Chief Executive Officer |
| Capital: | 1.5 billion rupee (as of Mar. 5, 2008), with plans to eventually increase capital to 5.6 billion rupee (approx. 16 billion yen) |
| Capital ratio: | 70% by Yamaha Motor Co., Ltd. 30% by Mitsui & Co., Ltd. |
| Number of employees: | 2000 (approx.) |
| Areas of business: | Development, manufacture and sales of motorcycles, spare parts and accessories. Export of locally assembled motorcycles and parts |
| Scale of operations: | First year (nine months beginning Apr. 2008) projected sales of 10 billion rupee (approx. 30 billion yen) |
Yamaha Motor Co., Ltd. (YMC)
| | |
| --- | --- |
| Location: | 2500 Shingai, Iwata, Shizuoka, Japan |
| Foundation: | July 1, 1955 |
| Headed by: | Mr. Takashi Kajikawa, President and Chief Executive Officer |
| Capital: | 48,300 million yen (as of December 31, 2007) |
| Sales: | 1,756,707 million yen (consolidated, year ended December 31, 2007) |
| Number of employees: | 46,850 (consolidated, year ended December 31, 2007) |
| Areas of business: | Manufacture and sales of motorcycles, outboard motors, boats, sail boats, water vehicles, 4-wheel ATVs, side-by-side vehicles, snowmobiles, automotive engines, surface mounters and others. |
Mitsui & Co., Ltd. (Mitsui)
| | |
| --- | --- |
| Location: | 2-1 Ohtemachi 1-chome, Chiyoda-ku, Tokyo |
| Foundation: | July 25, 1947 |
| Headed by: | Mr. Shoei Utsuda, President and Chief Executive Officer |
| Capital: | 323,213 million yen (as of March 31, 2007) |
| Sales: | 15,357,656 million yen (consolidated, year ended March 31, 2007) |
| Number of employees: | 41,761 (consolidated, as of March 31, 2007) |
| Areas of business: | Sales, manufacturing, exportation / importation, and international trade and services in metal products, machinery, information, chemicals, energy, consumer products and services, logistics and financial markets; diversified services including natural resource development and technology development in new fields. |