24 Jan, 2017

The powerful 249 cc Mid-class Street Fighter offers high performance & superb controls
New Delhi, 24th January 2017: India Yamaha Motor Pvt. Ltd. today launched the much awaited FZ25 to its successful and popular FZ Series. The new model FZ25 has been developed with a newly designed air-cooled, 249 cc, 4-stroke, SOHC, 2-valve, single-cylinder, high-torque fuel-injected engine on a lightweight frame (148 Kgs) enabling the joy of control as the rider intends. These features will establish the FZ25 as a "Powerful, mid-class, street fighter" for the Next FZ World. The design emphasizes both the senses of mass forward layout and downforce, evoking the powerful muscles of an athlete. This newly launched street model delivers riding enjoyment as well as excellent fuel efficiency and environmental performance and is targeted for biking enthusiasts in the age group of 20 to early 30s.
The wide speculations finally made it to the much awaited grand launch today at the Pullman Hotel, New Delhi as Bollywood heartthrob John Abraham revealed the new model to public applause and delight. The FZ25 will be available at across all authorised Yamaha dealerships in three exciting colour schemes - "Ballistic Blue", "Warrior White" and "Knight Black". The new model will be available in the market beginning February 2017.
Based on a reliable 249 cc single-cylinder engine proven on sport bikes for the Japanese market, the model's engine has been fine-tuned and optimized for the Indian traffic environment, primarily in the intake/exhaust systems and the ignition system. Building on the reputation, the new model has been developed with Yamaha's New Generation Engine Development Ideal - 'Blue Core' featuring overall improved performance including fuel efficiency, acceleration and environmental friendliness. The model is compliant to BS IV emission standards.
With its maximum power output of 20.9 PS at 8,000 rpm and maximum torque of 20 N*m at 6,000 rpm, the new 249 cc model also offers an impressive array of new features including the LED headlight (First 250 cc model in India*) and an LCD instrument cluster with a high-quality look evoking a sense of innovation, a mudguard that moves with the swing arm, wheels with a spoke design like that of MT Series bikes and racing style footpads (rear seats) making it an irresistible option as the top-end model of the FZ Series. At the same time, it offers the nimbleness and easy-to-use character for daily use as well as riding excitement in a variety of usage scenes.
*As of July 2016, Yamaha Motor survey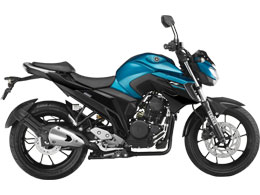 Ballistic Blue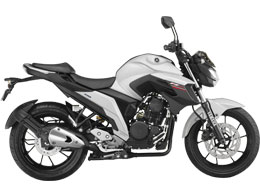 Warrior White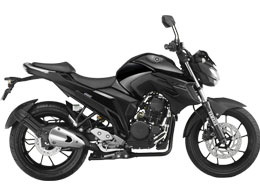 Knight Black
Speaking on the occasion,Mr Masaki Asano, Managing Director, Yamaha Motor India Sales Pvt. Ltdsaid, "The FZ series has been a great performer ever since its launch in 2008. FZ Series performed very well in India and crossed 1.3 Million sales since its launch and has developed as a strong brand in the deluxe segment. Now the deluxe segment customers can step up to a premium model and Yamaha is very happy to offer an option which is armed with more power, impressive new features, sporty look and aggressive styling. Introduction of new FZ25 Model in FZ family will surely appeal to today's confident generation. With this launch, Yamaha will line up a compact FZ series only to enhance its solid brand image in performance motorcycles."
Mr. Roy Kurian, Vice President, Sales & Marketing, Yamaha Motor India Sales Pvt. Ltd.added, "FZ25 is a refined mix of raw power along with superb control and balance. The bike has been personalized for street smart, new age macho riders with aspiration to move towards a more powerful bike. For a powerful bike like this, it is important to have balance and control. Following the FZ legacy, the bike also inherits high level of riding performance and styling DNA worthy of its series. While the bike has been engineered for new age biking enthusiasts, its superior design and comfort makes it perfect for daily use as well."
With the new launch, the company is confident that it will be able to make new inroads in the customer base especially those who wants to step up from the deluxe segment to premium. The company is very bullish on the new launch and is very confident that it will keep up with the strong growth numbers the company has witnessed in the last few years.