20 Sep, 2020

Monster Energy Yamaha MotoGP's Maverick Viñales got his revenge the second time round at the Misano World Circuit Marco Simoncelli. He executed his plan perfectly and claimed his eighth premier class victory, his seventh with Yamaha. Valentino Rossi was unlucky to have his challenge for the podium end early after a crash on lap two. He re-joined the race briefly but retired after 15 laps.
Misano Adriatico (Italy), September 20th, 2020: Monster Energy Yamaha MotoGP's Maverick Viñales earned bragging rights today at the Gran Premio dell'Emilia Romagna e della Riviera di Rimini. The Top Gun rider went full steam ahead in the 27-lap race, taking a brilliant win. Valentino Rossi's hopes for a podium were dampened by an early crash. Though he was able to briefly re-join the race, he later retired and ended the day with an NC score.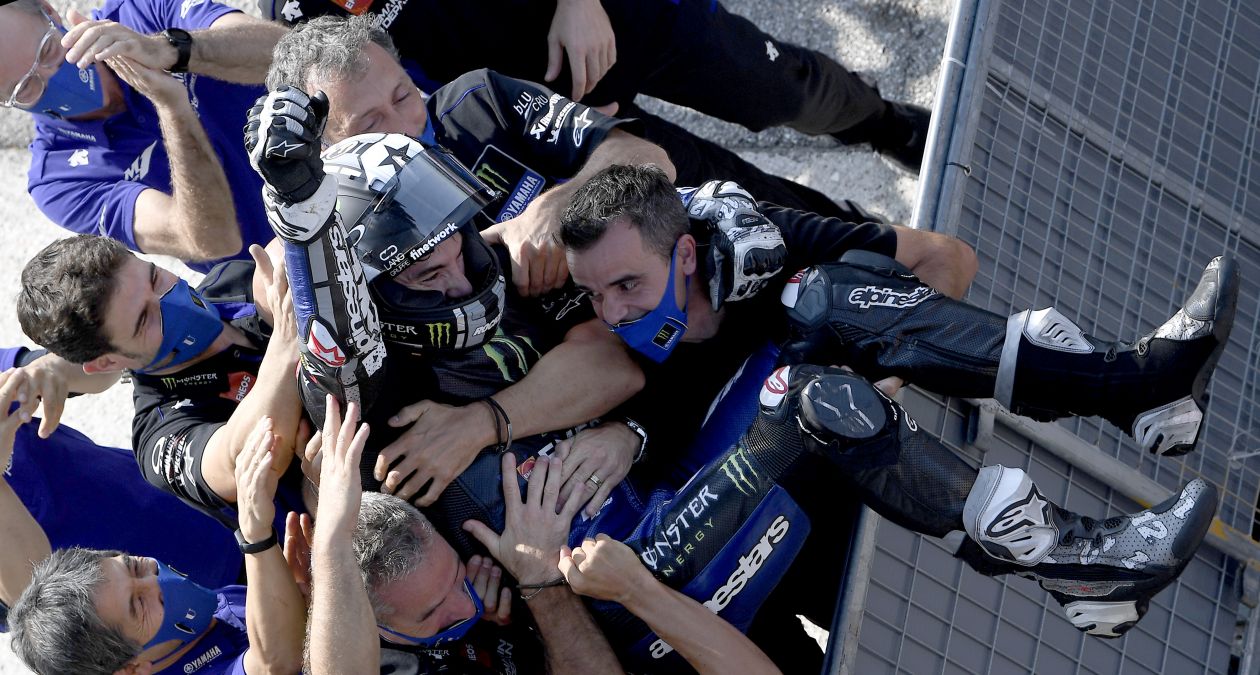 Viñales had a perfect start from pole and took the holeshot. The Yamaha man planned on pushing right from the start, and that's exactly what he did. He set a blistering hot pace that only Francesco Bagnaia was able to match. The pair were riding on the limit ahead of the pack, consistently increasing their lead. Then, on lap 6, Viñales made a small mistake in Turn 4 that made him go wide. He reluctantly handed over the lead but didn't stop pushing.
The gap between him and Bagnaia stretched to 1.5s, but it didn't extend beyond that. The Spaniard also still had a comfortable advantage over the rider in third place, so he could afford to focus on saving his tyres for the final stages of the race.
With ten laps to go, the time had come for the number-12 to put pressure on Bagnaia. He was inching closer, and the gap was reduced to just over a second when the race leader crashed. Viñales was now back in P1 with 7 laps left to go to the chequered flag. Just focusing on getting the bike home, he cruised towards his first victory of the 2020 season, which he secured with a still dominant 2.425s advantage. This is his eighth premier class GP win and his seventh with Yamaha.
Rossi had a good start, determined to deliver a good result at his second home Grand Prix of the 2020 season, but he lost the front on Turn 4 in lap two. Though it was a small crash and The Doctor was able to re-join the race, he lost a lot of time. He had dropped back to 18th with a lot of work ahead of him.
The local hero was disappointed to see his chances for a podium disappear but stayed out for as long as he could to confirm this week's race settings changes ahead of next week's race. After lap 15 he decided to pull into the pits, ending his day with an NC score.
After today's race Viñales moves up to third in the championship rankings, just 1 point from the top. Rossi drops to ninth place, with a 26-point gap to first. Yamaha remains first in the constructor standings, and Monster Energy Yamaha MotoGP also stay in second place in the team classification.
Viñales and Rossi will be back in the saddle next weekend for the Gran Premi Monster Energy de Catalunya, held from 25 – 27 September in Montmeló, Spain.