08 Aug, 2021

Monster Energy Yamaha MotoGP's Fabio Quartararo secured a strong third place at today's eventful Grand Prix of Styria. The first race got red flagged on lap 3, but the Frenchman kept his head cool and rode his M1 to a podium finish. Maverick Viñales was a podium contender in Race 1, but things took a turn for the worse at the re-start, ultimately resulting in the Spaniard starting and finishing Race 2 through pit lane.
Spielberg (Austria), 8th August 2021:Monster Energy Yamaha MotoGP's Fabio Quartararo put in a strong performance at the Spielberg Circuit and pushed to the limit to equal his best previous result in Austria. The stellar third place tastes even sweeter as he extends his championship lead to 40 points. On the other hand, it was a disappointing Sunday for Maverick Viñales, especially after his brilliant start to the initial race before the red flag situation. Having to commence the re-start from pit lane ended any chances he had to finish at the top.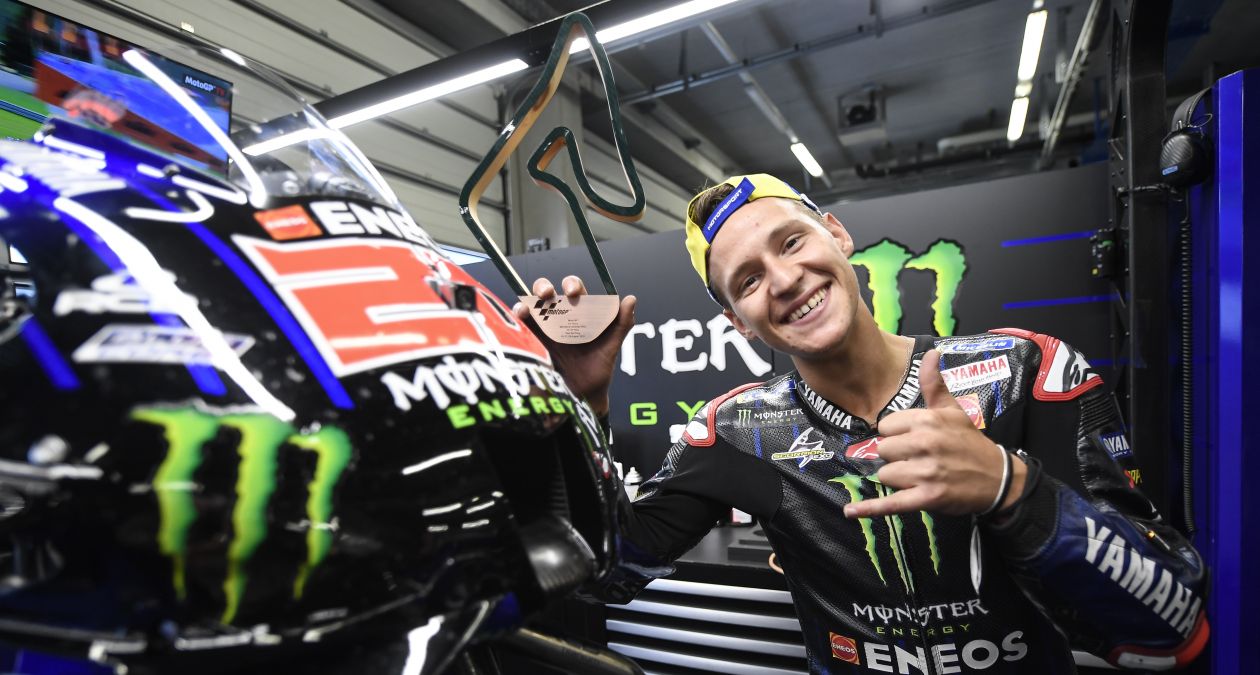 Quartararo and especially Viñales had a good start to the race from third and ninth on the grid respectively. They were in third and fifth place, part of a busy seven-rider front group, and looking on the pace when the red flags came out on lap 3.

The race was halted due to safety conditions following an incident at Turn 3 involving Dani Pedrosa and Lorenzo Savadori. A lengthy track clean-up operation followed. At 14:38 local track time there was a quick re-start procedure, with pit-lane exit being open for only 60 seconds and the riders resuming their original starting position for a 27-lap race.

Another good start by Quartararo saw him finish the first lap in fourth place. He put it all on the line to defend his position from Johann Zarco and did so successfully. Six laps into the race the Frenchman put in two attacks on Jack Miller to snatch third.

With a 1.479s gap ahead of him, El Diablo put his head down, but he wasn't able to close in on the front runners. The Yamaha man then got under pressure from Jack Miller but with 10 laps to go the Australian crashed out whilst trying to stick to the number-20 M1. The remainder of the race was a lonely ride for Quartararo, but he was delighted to finish it in third place, 9.632s from first.

The dream start Viñales had in Race 1 was not to be in Race 2. His bike stalled between the sighting and the warm-up lap and as a result he had to start from pit lane. On lap 8 the Spaniard caught up with Cal Crutchlow to take over 20th place. Three laps later, he picked off Luca Marini. Top Gun was in the flow, but then received a long lap penalty for exceeding track limits. He swiftly executed the punishment but fell back to last place again.

Viñales opted to keep going and collect extra dry track data. With 11 laps to go, he again passed Crutchlow for 19th place and Miller's crash gained him another position. But with four laps left, he lost a place again to Crutchlow. He pulled into the pits at the end of the last lap to finish through pit lane in 19th place.

Today's results see Quartararo increase his lead in the championship standings to a 40-point advantage and a 172 points total. Viñales remains in sixth, with a 95 points total. Yamaha is still in first place in the constructor championship with 200 points, and Monster Energy Yamaha MotoGP is also in first place in the team standings with 267 points.

The Monster Energy Yamaha MotoGP Team will be back in action in Spielberg next weekend for the Motorrad Grand Prix von Österreich.