30 May, 2021

Fabio Quartararo had his own renaissance in Italy, returning to his winning ways at the Autodromo Internazionale del Mugello today. It's his first victory since arm pump surgery and Monster Energy Yamaha MotoGP's fourth of the 2021 season. Maverick Viñales secured a hard-fought eighth place in today's emotional and physically demanding Gran Premio d'Italia Oakley.
Scarperia (Italy), 30th May 2021:Monster Energy Yamaha MotoGP's Fabio Quartararo was unstoppable in today's Gran Premio d'Italia Oakley. He was resolved to win this race for the late Jason Dupasquier and did it in style. Maverick Viñales didn't have the best of starts from 13th on the grid but recovered to 8th place at the chequered flag.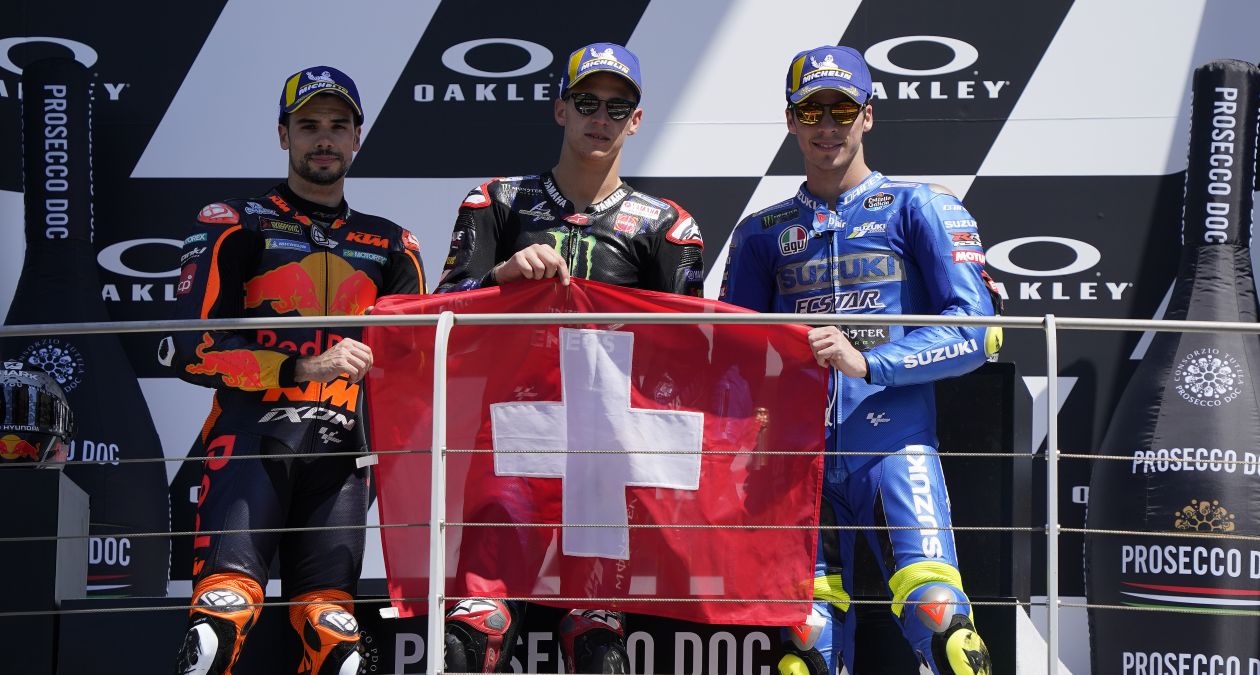 Quartararo had to pull himself together after an emotional one-minute silence before the race start. Though concentrating afterwards was difficult, the Yamaha man was determined to race in Dupasquier's honour. After a lightning-fast start from pole thanks to the new launch device that Yamaha introduced this weekend, he slotted into second place behind Francesco Bagnaia. The Frenchman was all over the rear of the Ducati until the Italian crashed out on lap 2 and handed him the lead. Though briefly overtaken by Johann Zarco on the start-finish straight, the Yamaha rider wasn't shy to squeeze his nimbler Yamaha through in return, making excellent use of the bike's high corner speed.
The next two laps continued to be a tug of war between the two compatriots, but then the number-20 rider put the hammer down and checked out. With 17 laps to go, he already had an over 1-second margin to his pursuer and was in the zone. Fully focused on getting everything out of his YZR-M1, he continued to flash red sectors. At one point his advantage was over four seconds. The remainder of the race was a lonely and slightly emotional ride, but Quartararo didn't put a foot wrong. He took the win by 2.592s across the finish line.
Viñales had a difficult start from 13th on the grid and found himself in 16th place after the first lap. However, the Spaniard picked up two positions, and with two further riders crashing out, he moved up to 12th.
He was at the back of a three-rider group fighting for tenth place, but after the first eight laps the group started to break apart. Eager to stay in contention for a top-10 finish, Top Gun picked up the pace. With 15 laps to go, he overtook Pol Espargaró. He went on to set red and personal best sectors and soon also breezed past Danilo Petrucci. Next up was Michele Pirro, who put up a fight but in the end was no match for the Spaniard. On lap 13, Viñales made it stick.
Having used up most of his medium tyres, it was too big an ask to close the over 4-second gap to the rider in ninth place. However, with two late crashers, the number-12 rider took eighth place over the finish line, 17.239s from first.
Thanks to today's results, Quartararo extends his lead in the championship standings to 24 points, with a 105 points total. Viñales is now in sixth, with a 64 points total. Yamaha is back in first place in the constructor championship with a 132 points total, and the Monster Energy Yamaha MotoGP Team is also in first place in the team standings with 169 points.
The next MotoGP race weekend is scheduled to take place next week in Catalunya, Spain, at the Circuit de Barcelona-Catalunya from 4th - 6th June 2021.
Yamaha Motor Co., Ltd, Yamaha Motor Racing Srl, and the entire Monster Energy Yamaha MotoGP team are deeply saddened by the passing of Swiss Moto3 rider Jason Dupasquier today. We extend our heartfelt condolences to his family, friends, loved ones, and the PrüstelGP team.