29 Aug, 2021

The Monster Energy Yamaha MotoGP Team are celebrating a significant victory today. Nobody could match the level of Fabio Quartararo aboard his YZR-M1. He took the win at the Monster Energy British Grand Prix with a convincing 2.663s lead. Starting from P19, Cal Crutchlow was aiming for championship points but came just short and finished in 17th place.
Silverstone (UK), 29th August 2021:Monster Energy Yamaha MotoGP's Fabio Quartararo gave a masterclass at the Monster Energy British Grand Prix today. An impeccable race from start to finish earned him his fifth victory of the season and eighth podium. Cal Crutchlow rode a steady race. Starting from 19th, he crossed the finish line in 17th place.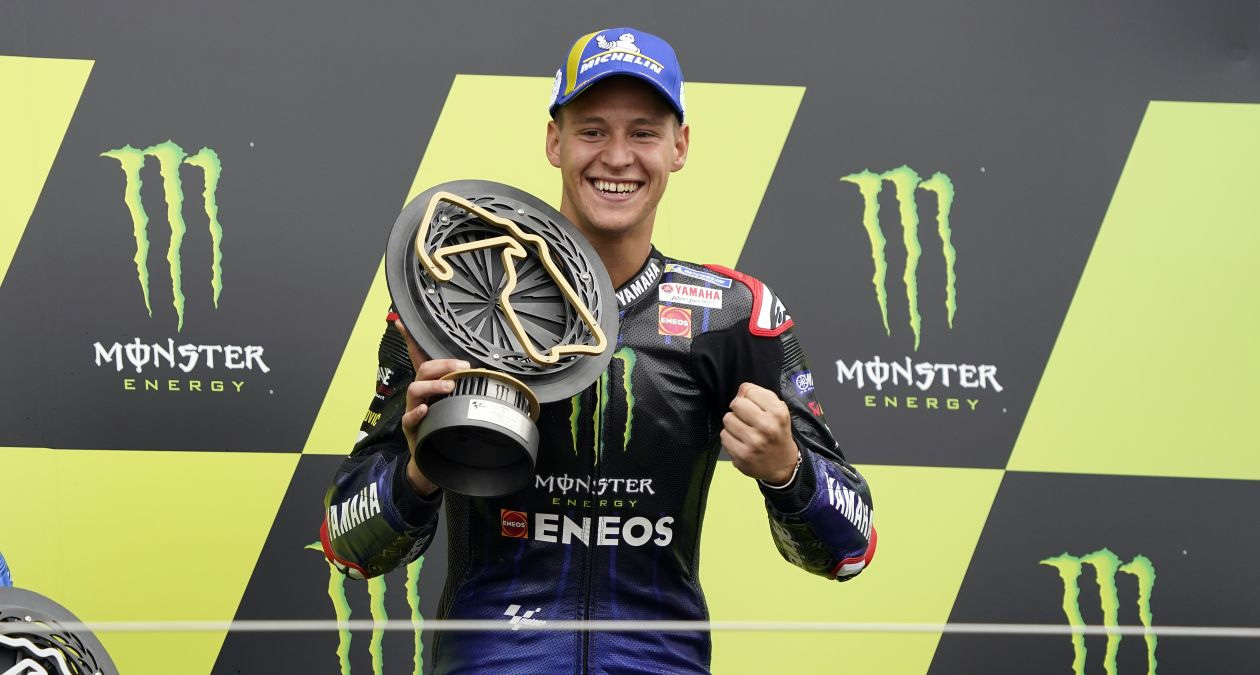 Quartararo started from third position on the grid and slotted into second after the first corner. He had to relinquish two positions on the back straight before Turn 7, but it wasn't for long. With 18 laps to go he overtook Francesco Bagnaia and had to close a small gap to the front duo. He managed it in no time. A lap later El Diablo took over second place from Aleix Espargaró and went on to set a provisional 2'00.485s fastest lap of the race on lap 4. He then swiftly moved past Pol Espargaró in Turn 12 on the next lap.

With clear space ahead of him, the Frenchman was off. Another 2'00.098s fastest lap of the race on lap 6 gave him an advantage of 1.320s, which sealed the deal. The rest of the race was a lonely ride and thus a real test of concentration, but the Yamaha man did a perfect job, steadily extending his lead to nearly 4 seconds. He managed the gap beautifully and took the win with a 2.663s advantage.

Cal Crutchlow began the race from 19th place and soon moved up two positions with riders crashing out in the busy opening lap. The Briton was spurred on by the crowds to push for championship points. He lost a bit of time sparring with some rivals which led to rear-tyre drop in the later stages, but he kept the bit between his teeth.

With 3 laps to go he overtook Valentino Rossi for 16th but then lost a place to Miguel Oliveira. He was unable to retaliate and ended the race in 17th place, 23.232s from first.

Today's win extends Quartararo's lead in the championship standings to 65 points, with a 206 points total. Replacement rider Cal Crutchlow hasn't scored any points yet this season and occupies the 27th spot in the rankings. Monster Energy Yamaha MotoGP stay in first place in the team standings with 301 points. Yamaha climbed up to first place again in the constructor championship with 234 points.

The Monster Energy Yamaha MotoGP Team will be back in action in two weeks' time at the Motorland Aragón circuit for the Gran Premio de Aragón.