13 Sep, 2020

Monster Energy Yamaha MotoGP's Valentino Rossi and Maverick Viñales pushed to the limit at the GP di San Marino e della Riviera di Rimini, taking fourth and sixth place respectively.
Misano Adriatico (Italy), September 13th, 2020:Monster Energy Yamaha MotoGP's Valentino Rossi was a strong contender for the podium during the GP di San Marino e della Riviera di Rimini. He spent most of the race positioned in second place but came just short to greet the Italian fans from the rostrum. Maverick Viñales had a more difficult day at the office. Though his pace improved in the latter stages, he crossed the finish line in sixth position.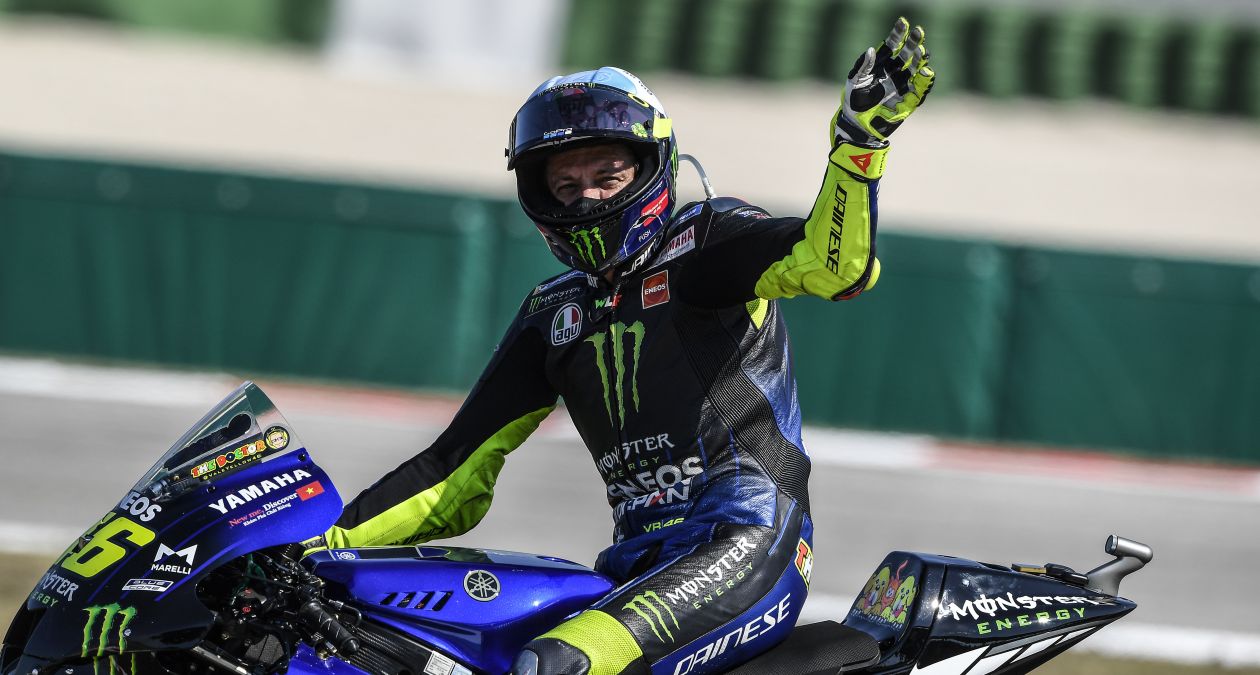 Rossi made a lightning fast start from P4 on the grid, slotting into second place. He got into an early scrap with Franco Morbidelli for the lead but completed the first lap in second. Over the next couple of laps the two Italian Yamaha riders stuck together, breaking away from the pack.
The Doctor wasn't quite able to stick with Morbidelli, so it was mostly a lonely race for him. He had a strong pace, riding consistent low-1'33s laps, but with eight laps to go, Francesco Bagnaia, Joan Mir, and Álex Rins reeled him in. The number-46 rider made his Yamaha as wide as possible, riding brilliantly until the very end, determined to be on the podium in Misano. However, in the last stages he was unable to keep Bagnaia and Mir behind him and took the chequered flag in fourth, 2.643s from first.
Viñales had a bit of a scare at the start of today's race, as the team suspected a technical issue when he arrived on the starting grid. It was a false alarm though, and the Spaniard was able to start from pole position as originally planned.
He had a decent start but found himself in fourth place after the first couple of corners. Being the only rider on the hard rear tyre, he had to wait for the tyre to come to him. Meanwhile, he tried to defend his position from charging riders. He was in seventh place with 17 laps to go, but never stopped pushing. With nine laps left, the Spaniard was making strides again. As his pace improved, he soon overtook Jack Miller to take sixth place over the start-finish line, 5.383s from the lead.
After today's race Viñales holds fifth in the championship rankings, 18 points from the top. Rossi moves up to sixth place, also with an 18-point gap to first. Yamaha remains first in the constructor standings, and Monster Energy Yamaha MotoGP also stay in second place in the team classification.
Rossi and Viñales will return to the Misano track coming Tuesday for a scheduled IRTA Test before next weekend's Gran Premio dell'Emilia Romagna e della Riviera di Rimini, held from 18 – 20 September.