22 Nov, 2020

Maverick Viñales and Valentino Rossi have completed the 2020 MotoGP season at the Autódromo Internacional do Algarve. After the busy opening stages, the pair stuck together in their last race as team-mates and made up multiple positions to take the chequered flag in 11th and 12th place respectively.
Portimão (Portugal), 22nd November 2020:The Monster Energy Yamaha MotoGP Team wrapped up the 2020 MotoGP World Championship today at the Autódromo Internacional do Algarve, joining forces for one last time. Maverick Viñales and Valentino Rossi stuck together in the latter stages of the race to move up the order and finished in 11th and 12th place respectively.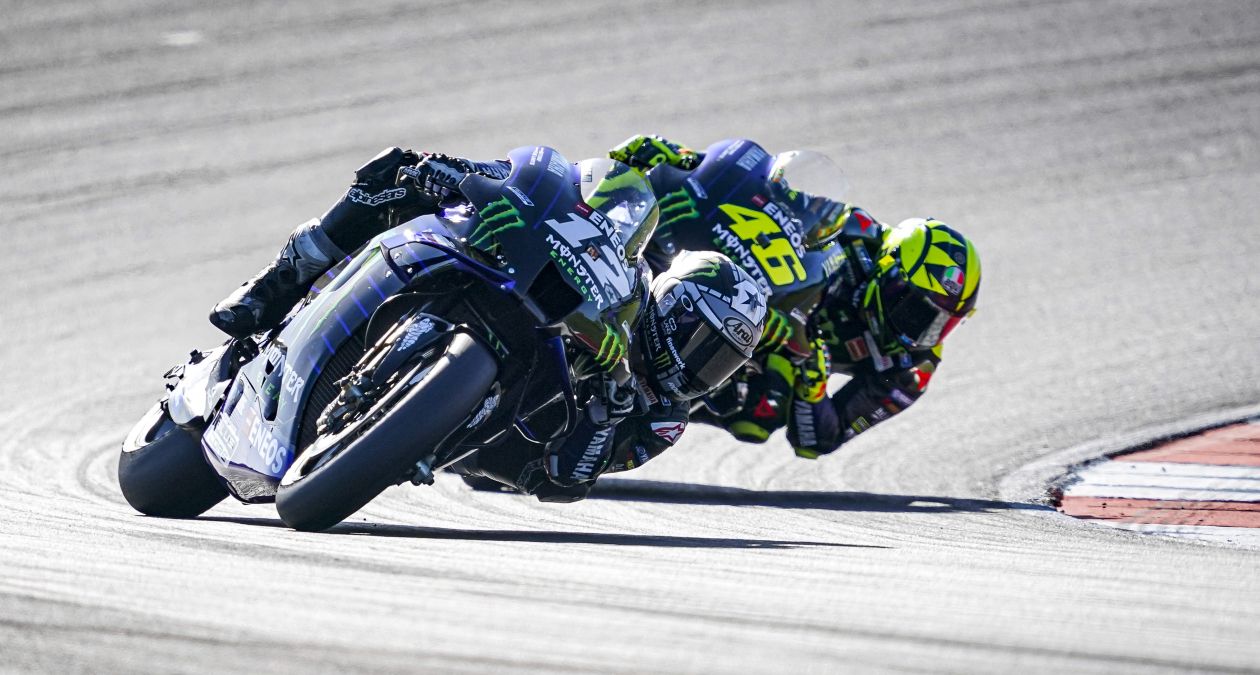 Viñales didn't have the best start from eighth on the grid, but he was regaining positions steadily over the first couple of laps. However, just when he was back in eighth place, he dropped down the order again.

With 19 laps to go, the Spaniard was in 14th place, in front of his team-mate, but the race was still long. Viñales bided his time until ten laps before the end, when he launched his second attack. He overtook Fabio Quartararo for 13th one lap later and soon he also passed Álex Rins. He then had his eyes on a top-10 finish. Though he came just short, he did manage to overtake Cal Crutchlow on the very last lap of 2020, to take 11th place across the finish line, 18.685s from first.

Rossi had to start his final race with the Yamaha Factory Racing MotoGP Team from 17th on the grid. The experienced nine-time World Champion knew he had to stay cautious, as anything can happen in the busy mid-pack, yet maintain a steady pace.

The first five laps were a see-saw. The Yamaha rider's position would vary between 17th and 14th place. The Factory man eventually settled into 15th. He completed a number of laps behind Maverick Viñales, until the final ten laps when the pair in tandem initiated their move up the rankings. Rossi's love for fighting on track is widely known, so it was fitting for him to end the season battling with Quartararo, Rins, and also Crutchlow in the final stages to secure 12th place, 18.946s from the front.

Today's results see Viñales finish in 6th position in the championship standings, 39 points from first. Rossi ended the season in 15th place, 105 points from the top. The Monster Energy Yamaha MotoGP Team took 6th in the team standings, while Yamaha moved up to 2nd place in the Constructor Championship, thanks to Franco Morbidelli's third place today.

The Monster Energy Yamaha MotoGP Team thank all their sponsors, partners, suppliers, the staff, the engineers in Japan, Maverick Viñales, Valentino Rossi and, of course, the fans, for their support during this unique MotoGP season.