06 Jun, 2021

Monster Energy Yamaha MotoGP's Fabio Quartararo was a strong contender for the podium at the Gran Premi Monster Energy de Catalunya but ultimately had to settle for fourth place after a 3-second penalty. Maverick Viñales showed strong pace over the first two-thirds of the race distance, riding from the busy mid-pack to sixth place. Tyre degradation then halted his progress, but he takes valuable points for the championship.
Montmeló(Spain),6th June 2021:The Monster Energy Yamaha MotoGP Team had high hopes for a podium at the Gran Premi Monster Energy de Catalunya. Fabio Quartararo put up a strong fight and held on to third place in the race, despite unexpected circumstances concerning his rider gear. However, the incident did make him take a shortcut. Race Direction accordingly gave him a 3-second penalty, that put him in fourth place. Maverick Viñales had a brave ride, setting similar lap times to the frontrunners, and finished in sixth place.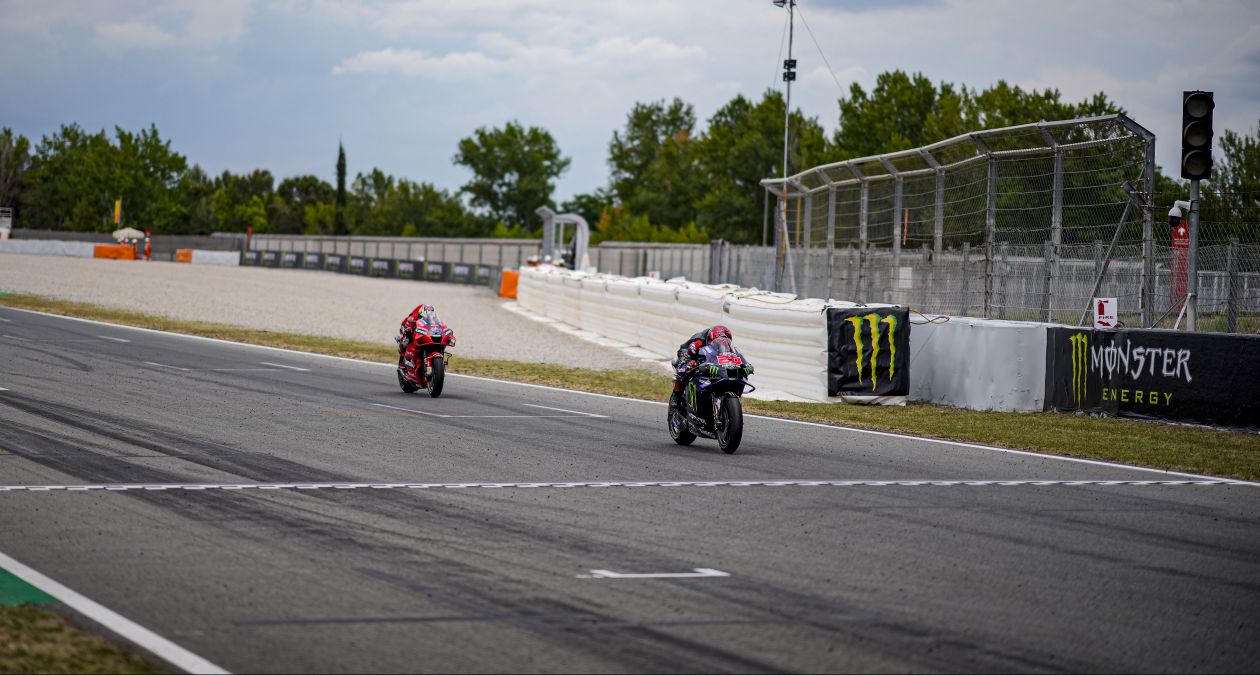 Quartararo started well from pole and emerged through the first corners in third place. He got into a hard fight. A mistake on lap 2 dropped him back to fifth and he lost another position to Johann Zarco, but that was only temporary. He was soon back into fifth position hunting down the leading quartet.

The Frenchman promptly closed the gap and started picking off the riders ahead of him one by one. With 18 laps to go, he was in second place and eager to chase down Miguel Oliveira, one second in front of him. The championship leader knew he had the pace with some clear space in front of him.

The number-20 rider had the bit between his teeth. Five laps later, he put his YZR-M1 in first place and tried to clear off, but Oliveira used the slipstream to retake the lead. Quartararo had to be clever, picking a strategy that would keep him firmly ahead. However, left-side tyre degradation and an unexpected situation with his rider gear spoiled his plans. He fell back to third. Still, El Diablo bravely soldiered on and managed to hold on to his position until the chequered flag. A 3-second penalty for taking a shortcut after running wide cost him a place on the podium, putting him fourth in the results.

Viñales managed the tricky opening stages well. He started from sixth on the grid and held seventh place after the first lap. The busy mid-pack meant that occasionally some fairing paint was exchanged. The Yamaha man lost a bit of momentum when hit by another rider, but he was good to continue in eighth place.

With Marc Marquez crashing out on lap 8, Top Gun moved up to seventh, and he was also making progress reeling in the rider ahead of him. With 14 laps to go, Viñales made his move on Aleix Espargaró, so he could try for a top-5 placement. Though he managed to close in on Joan Mir in fifth, the ride to the front had asked too much of his medium-medium tyres. He crossed the finish line in sixth place, 6.281s from first.

Today's results see Quartararo hold on to the lead in the championship standings with a 17-point advantage and a 118 points total. Viñales remains in sixth, with a 74 points total. Yamaha is still in first place in the Constructor championship with 145 points, and the Monster Energy Yamaha MotoGP team is also in first place in the Team standings with 192 points.

Tomorrow the Monster Energy Yamaha MotoGP Team will be back in action at the Barcelona circuit for an official one-day IRTA test. The next MotoGP race weekend is scheduled to take place in two weeks' time, at the Sachsenring in Germany from 18th - 20th June 2021.