07 Nov, 2021

It was a difficult outing for the Monster Energy Yamaha MotoGP Team today at the Grande Prémio do Algarve. Franco Morbidelli was fighting for championship points in the first half of the race, but due to his injury he struggled to get in the midst of the action in the second half. He was in 17th place when the race was red flagged with 2 laps to go. Despite having had a tough weekend at the Autódromo Internacional do Algarve, Fabio Quartararo managed to keep hold of a solid top-7 position until he crashed out on lap 21, ending his challenge with an NC result.
Portimão (Portugal), 7th November 2021: The Monster Energy Yamaha MotoGP riders were braced for a difficult Sunday at the Autódromo Internacional do Algarve, starting from the third row of the grid. The still injured Franco Morbidelli spent most of the race battling for championship points but couldn't make strides. He ended in 17th place after the race was red flagged with 2 laps to go. Fabio Quartararo's hard work in the Grande Prémio do Algarve had him in contention for a top-5 placement, but a crash on lap 21 ended his challenge prematurely.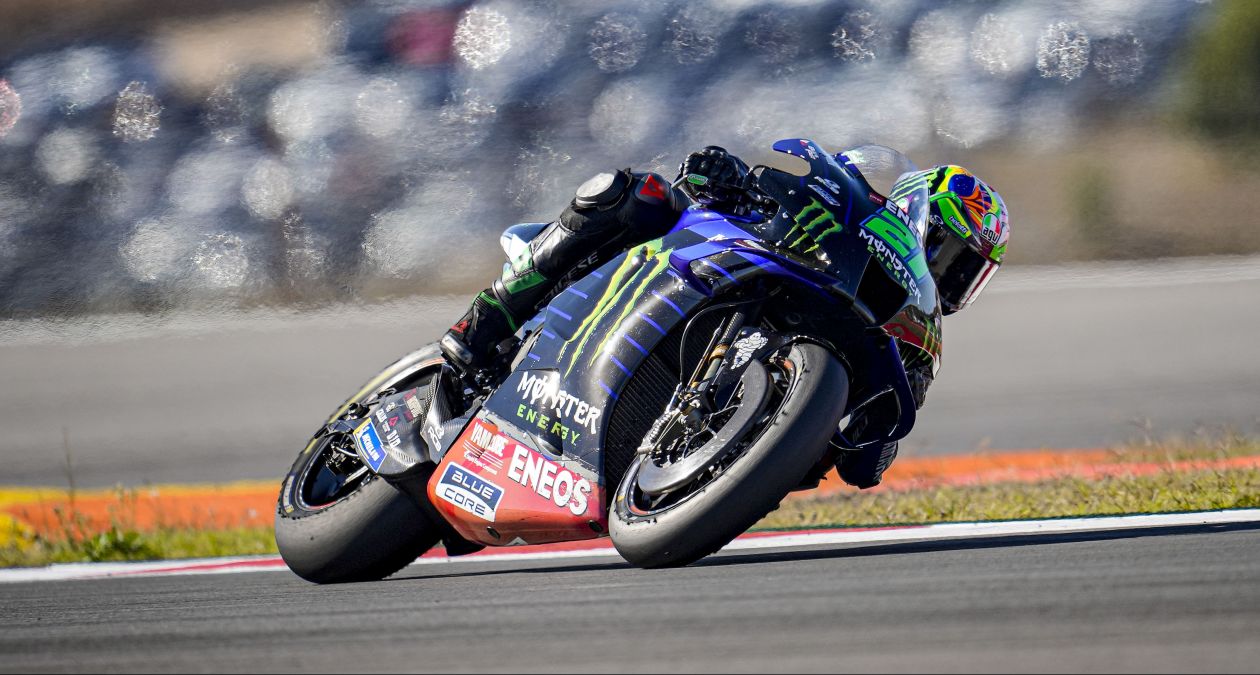 Morbidelli started the race from ninth on the grid. He made his Yamaha as wide as possible in the busy first lap and completed it in 11th position. The still recovering Italian had difficulty in the opening stages to get into a solid rhythm, but by lap 5 he had settled into fourteenth place and put in a low 1'40s lap. He then got into a battle with Aleix Espargaró until the Aprilia man crashed out two laps later.

The number-21 rider thus continued his ride in 14th place. However, as the race went on, his knee injury started to hold him back. Though he dropped down the field in the second half, Morbidelli kept pushing. He ended the race in 17th place, 27.863s from first.

Quartararo didn't have the best of starts from P7 but made up for it in the first couple of corners, recovering to eighth over the line. He picked up two more positions, keen to close in on the leading group. Setting a fastest lap of the race thus far on lap 3 showed the Frenchman was serious.

With Alex Marquez and Jorge Martin battling amongst themselves, a gap started to form to the leading trio. El Diablo knew it was key to pass them both if he wanted to have a shot at a podium place. With 15 laps to go, the number-20 rider launched his first attack on Martin but went wide. As Quartararo was calculating where he would make his next move, he had a wobble in Turn 13 a lap later that allowed Johann Zarco through. It made life harder for the Yamaha man, but not impossible. He overtook Martin and was in sixth place when a crash on lap 21 in Turn 5 ended his challenge. It is his first NC result of the season.

After today's race, 2021 MotoGP World Champion Quartararo keeps a 267 points total. Morbidelli stays in 17th place with 42 points. Monster Energy Yamaha MotoGP are still in contention for the Team Title. They are second in the standings with 364 points and a 28-point margin to first. Yamaha have secured second in the Constructor Championship having collected 298 points, with a 34-point disadvantage to first and a 71-point margin over third.

The Monster Energy Yamaha MotoGP Team will be back in action for the last race of the season at the Circuit Ricardo Tormo for the Gran Premio de la Comunitat Valenciana, held from 12-14 November.